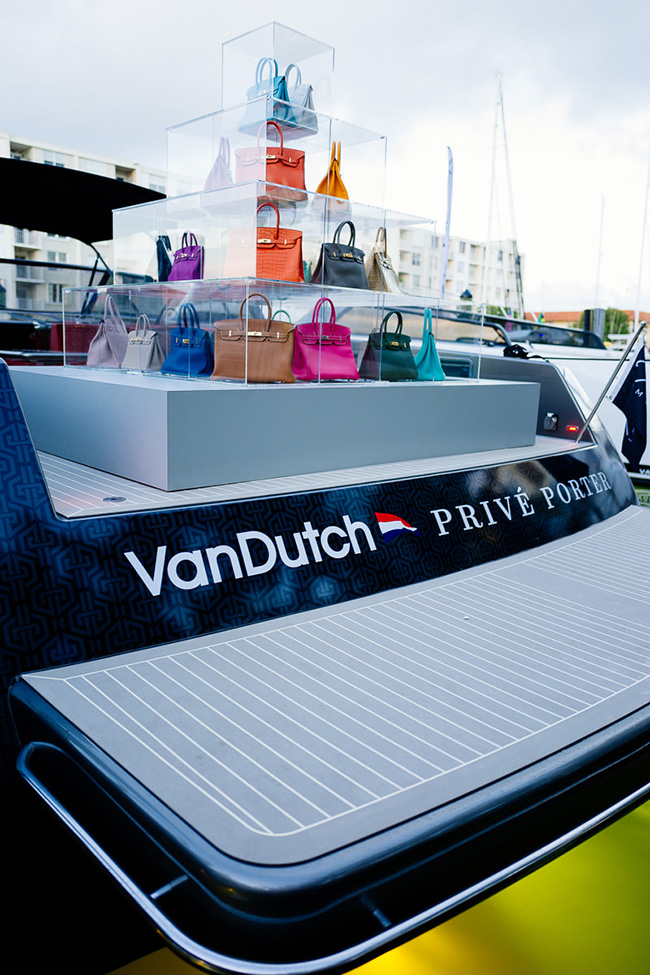 The Fort Lauderdale International Boat show happens every year, drawing hundreds of the world's most spectacular yachts to the area's waterways to see and be seen during this massive event. This year however, there was a slightly different kind of yacht in the mix.
Luxury sourcing company Prive Porter specializes in supplying their well-heeled customers with high-demand, low-supply luxury goods items. In particular, they specialize in difficult-to-find Hermes handbags. At this year's boat show, Prove Porter teamed-up with the Van Dutch luxury Yacht to create the world's first floating Hermes handbag pop-up shop! Their marketing strategy was simple; they were targeting their wares to what they called "the ultimate yachtswoman".
The bag that served as the main attraction on the day was a Hermes Braise shiny Porosus 35cm Crocodile skin Birkin with 18k white gold and diamond hardware. The cost? $330,000.
Interestingly, unlike more traditional luxury goods sales brokers, Prive Porter uses social media almost exclusively to drive sales; 80% of their handbag sales are a direct result of their Instagram postings. This pop-up shop was a departure for them, and was met with mixed reviews. On the popular handbag blog, Purse Blog, reviews of the pop-up shop ranged from "beautiful" to "a pedestrian way to display luxury bags."
Our take? There is no denying that for handbag fans, the bags aboard the yacht were breath taking, but we can't help but agree with one Purse Blog reviewer who mentioned that the choice of boat was perhaps not the best match for a high-end display of Birkins. We would have liked to have seen those beautiful handbags perched atop something that is at least as timeless as they are - perhaps a vintage wood-decked Crisscraft or on the mahagony deck of a sailing sloop. But then, perhaps we're just picking hairs here.