The Hermes Birkin has long been the hallmark of the most expensive handbags in the biz, whether they're bespoke versions of the classic handbag or straight off the rack. Just under a year ago, we reported on am auction that took place at Christies in Hong Kong that was the first of its kind; the secondhand handbag auction featured many Birkins, the most expensive of which netted a whopping $221,000, the most expensive sale of its kind in the history of the auction house.
Retailer Privé Porter specializes in unused but previously owned Birkin handbags. We have reported on them as well in the past, when they had a (admittedly strange) display at the Fort Lauderdale boat show in November of 2015. Apparently, one of the handbags from that boat show display is the handbag in question; according to Privé Porter, the handbag is a "35cm Birkin in braise shiny porosus crocodile, finished with 18-karat white gold encrusted with pavé diamonds, at a total weight of more than ten carats."
Yowza.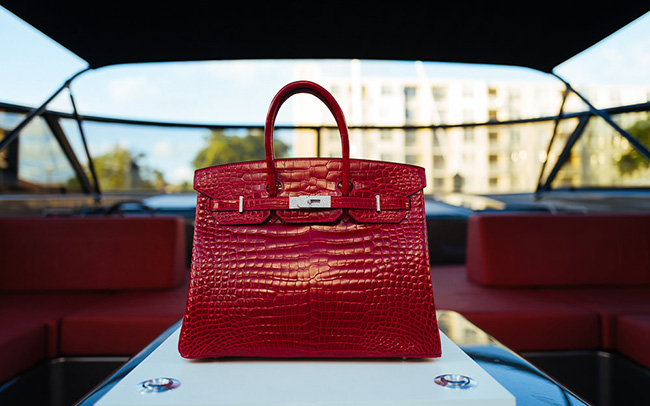 The unused but pre-owned bag was purchased by the firm from the original owner in 2015, and went to its new home in Los Angeles, to a buyer who wished to remain anonymous. The asking price? $298,000.
While we may not know who the new owner is, Privé Porter did tell the press that "the buyer is a very sophisticated collector who genuinely understands how special and rare this bag is. It is reflected in their willingness to pay the record price."