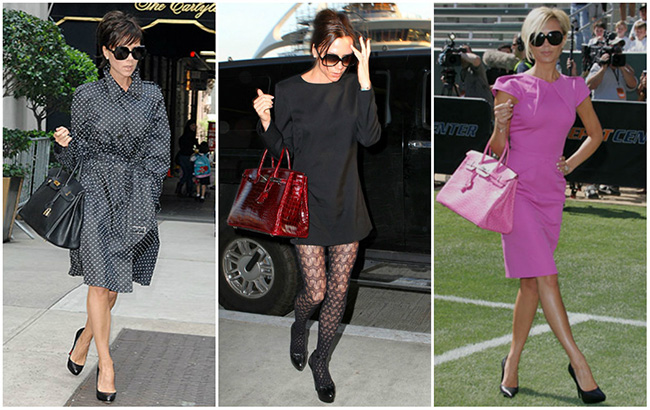 For many of us, a classic Hermes Birkin bag is an investment that, if we're really lucky, we might get to make once in our lives. However, if you are entertainer-clothing-designer, Victoria Beckham, the question isn't whether or not you should make the investment in a Birkin, it's whether or not you should make the investment in another Birkin.
To say that Beckham is a fan of Hermes' classic Birkin bag would be the understatement of the century. In a recent expose in the UK publication The Daily Mail, it was revealed that Beckham owns "around 100" of the famously pricey designer handbags, a collection worth approximately 1.5 million US dollars. Some of the more notable bags in her collection include bags in pink ostrich leather and a high-sheen black patent crocodile skin, which according to the Mail, are each worth approximately $65,000. However, the crown jewel of her collection may very well be the rare and collectible "Silver Himalayan" Birkin, which is priced at a reported $125,000, and comes with a complementary three-carat diamond.
Such expenditure on a handbag, albeit a beautiful handbag, may seem completely wasteful to many, but according to the Mail, fashion industry insiders insist that a Birkin bag should be treated like any other big ticket investment. By all accounts, the fashion industry may be right. Over the past few years, the popularity of buying rare and high-end goods via auction and consignment stores has led to these bags holding their value for a very long period of time, which can only be a good thing; with the price of some Birkin bags costing more than a luxury car, it's nice to know that unlike a car, the Birkin will hold its value for a few years. It looks like Ms. Beckham may be on to something.