Bloggers and fashion writers everywhere are all praising the merits of Prada's latest offering, the Inside Bag. This praise comes none too soon; Prada's handbag line had been suffering from some pretty lacklustre sales figures for the past several seasons, so the buzz that their latest design has generated comes just in the nick of time.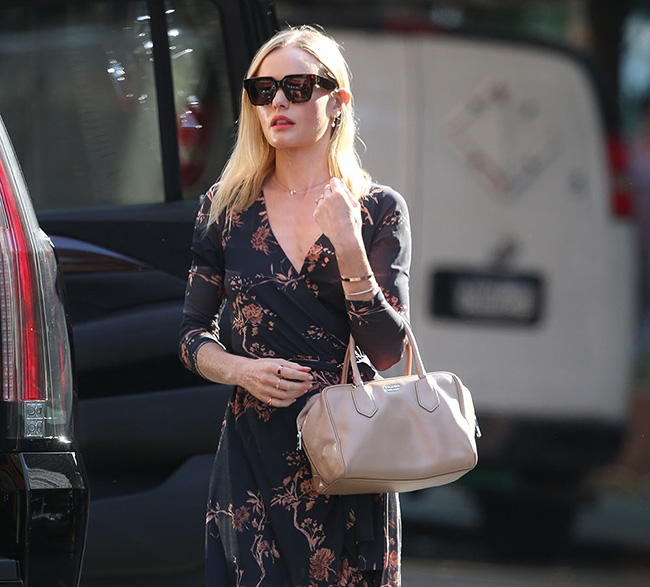 One of the first "sightings" of Prada's new bag happened just this week, when actress Kate Bosworth was spotted carrying the light beige version of the bag when she arrived in New York for Fashion Week.
It's easy to see why the bag is quickly becoming a popular choice with the fashion set. It's a well-balanced design, merging clean, minimalist lines with the very Prada-esque twist of having a subtle "bag within a bag" design. The inner bag provides not only a pop of color accent, but also a clever way of maintaining the bag's shape while shielding wandering eyes from the inner sanctum of your handbag.
There are several color and leather options for the Inside bag, with the range being plentiful enough to offer something for everyone, while being just limited enough to maintain a classic, sophisticated palette. The leather options include a buttery-soft calfskin, or a classic textured ostrich. There are also limited numbers of snakeskin and leopard print options available for those that aren't quite ready to tone it down for the new season.
With the exception of the Saffiano tote, the Prada Inside bag is a departure from their handbag lines of the past few seasons. This time, Prada has gone back to basics, pared-down the embellishment, and focused on the clean, classic designs that have made Prada who they are.
The Inside bag can be found online on the Prada website, or at select retailers for $3,050.