The ever-changing nature of fashion ensures that there is always something new on the horizon; a fresh crop of sartorial goodies to look forward to every season. That's particularly good news at this time of year. Cold, dark, gloomy winter weather conditions can sometimes get the better of our sensibilities, so having a colourful, whimsical little treat to add to the wardrobe can be just the thing to alleviate the mood.
Things certainly don't get any more whimsical than Nicholas Ghesquiére's resort 2015 collection for Louis Vuitton. Inspired at least in part by a visit to the Royal Palace in Monaco (where the final show was later staged), the collection perfectly captures the light-hearted joie de vivre of a holiday break. Here are a few highlights from the collection that are sure to put a smile on your face, regardless of whether or not you're planning on getting away this winter.
The Twist Malletage - $3,115
The Twist Malletage may very well be the perfect resort bag. The perfect blend of color, feminine detailing and crisp nautical styling, the Twist Malletage blends the sophistication of a classic chain handle bag with the effortless, sporty ease of a cross-body bag. Don't let the petite frame fool you, the unique "wave" design of the bottom of the bag provides room for expansion, making this a great option for chic holiday travelers.
The Petit Malle - starting at $5,200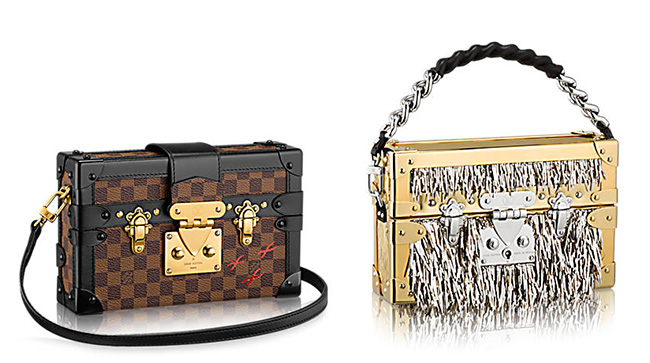 The Petit Malle has been one of Ghesquiére's most popular creations. Inspired by one of the brand's heritage trunks, this bag is instantly evocative of the long-lost, golden age of travelling. Its sturdy frame will keep your valuables safe and keep you looking chic wherever you go. If the heritage print Damier canvas version is too understated for you, have a look at the Metallic Fur version for all of its long-haired metallic whimsy. However, if you want one, you have to act fast. The Metallic fur Petite Malle is a limited edition, special order item that according to the Vuitton website, "will only belong to a very few".