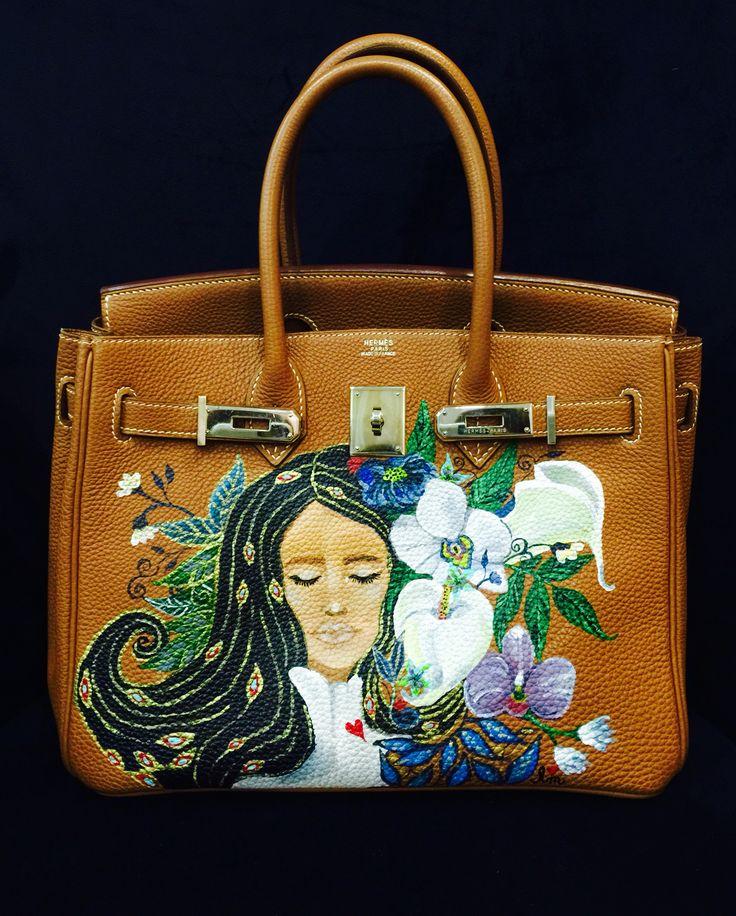 Yes, you heard that right.
Celebrities like American Business Women Kim Kardashian to Famous Filipino actress Heart Evangelista paint on Hermes's Birkin purses that can range from $12k to $300k or more based on materials and the resale value. Take for example, the most expensive handbag is Hermes Birkin Ginza Tanaka Bag starting at $1.9 million.
So, the question is why and what for?
Let's start off with the trendsetter, Kim Kardashian. While Ms. Kardashian has an expensive and an expansive purse collection, her husband Kayne West gifted her a Birkin in 2013. The Birkin was painted by George Condo, a contemporary artist who only needed 15 minutes to paint demons and nude women on it. The point was to "take an icon of consumerism and change it, which is like blasphemy" publish by W magazine when interviewing the artist. To further prove that statement, in 2014 Kayne gifted Kim a painted Kelly, another Hermes handbag named after Grace Kelly. The Kelly was painted by North-West, their daughter who was one year old at the time. This family knows how to make a statement.
Inspired by Kim Kardashian, Heart Evangelista a famous Filipino actress and a well-known painter, has painted on over 40 commissioned Birkins and other Hermes bags. Not including her own Birkin collection. It all started with a grease stain from cheesy fires on her own personal Birkin. After her long search to remove the stain, she saw a picture of one of Kim Kardashian painted bags and started painting her own. Most of her Birkin art works consist of an image of a peaceful woman among flowers and or animals. She is now one of the most sought out artist to paint on Hermes bags, which she doesn't mind as she wants to be known not only as an actress but as an artist as well. Published from The Philippine Daily Inquirer, she says "I am focusing on painting; I feel more appreciated as an artist than as an actress. People find artists more interesting as they age, and the works increase in value."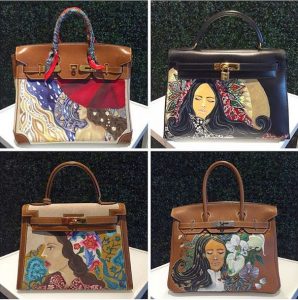 Other notable celebrities that doesn't let the handbag rule them is Jane Birkin herself, the actress who inspired the Birkin bag. She worked on the design on a flight with the chief executive of Hermes, Jean-Louis Dumasto, to create a perfect travel handbag. Now she is known as the lady who went on a Japanese TV show to stomp on her own handbag, talk about being a rebel!
One American singer/actress, Lady Gaga devoted one of her Birkin's to her Japanese fans with the inscription 'I Love Little Monsters, Tokyo Love' with a black marker on a beautiful perfect white Birkin. Clint Eastwood daughter, Francesca Eastwood let her husband destroy a red crocodile skin Birkin handbag with a chainsaw in the name of art. Which cause many Birkin fans to send death threats after the ordeal. Also, famous British singer Rita Ora hired graffiti artist Al-baseer Holly to personalize her Birkin with his art, because she can and can afford it.
What do you think? Are these ultra-rich famous people crazy for defacing something worth thousands if not millions of dollars? Or, do you think they are trying to make a statement that it is simply a handbag and they are not going to let it run their lives? Comment down below and let us know!