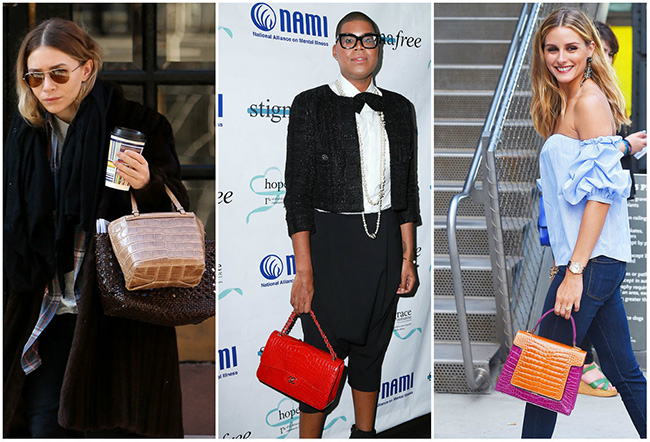 One of the trends that surfaced during the Fall/Winter 2015-2016 shows was an increase in the use of exotic animal skins in many prominent designer handbag lines. While exotic leathers like alligator, crocodile, and python have always been present in the upper echelons of handbag collections, this season, it seems that we simply cannot get enough exotic skin.
There is perhaps no better indicator of how a trend will play than whether or not celebrities will embrace it. By all appearances, the exotic skin bag trend appears to a trend that celebrities are firmly embracing, eye-watering price tags and all. Here are some of the frontrunners for the season.
The Row Mini Alligator Tote
This bag has been spotted on the arm of one of the design house's co-founders, Ashley Olson. While we love the simplicity of the design the luxurious material, and the painstaking attention to craftsmanship, we think the $39,000.00 price tag is a bit too rich for our blood.
The Chanel Alligator Flap Bag
A classic Chanel flap bag is always irresistible, but when you find one in a glossy, candy apple red alligator skin as EJ Johnson has, it's love at first sight, plain and simple.
The Analeena Dynasty Bag
Leave it to Olivia Palermo to find an uber-chic, off-the-beaten-track alternative to the big name luxury goods design houses. The Dynasty bag is a color blocked confection, and will instantly modernize anything you wear with it. Once again, Palermo has hit the nail square on the head!