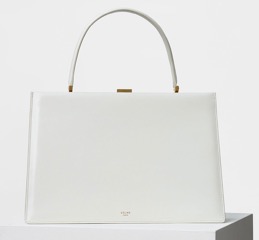 The fashion and accessories industries have always been obsessed with "newness". Each season, it seems that the collections are getting rolled out earlier and earlier, shoving us towards our springtime wardrobe planning long before the subarctic temperatures of the cold season have begun to let up. To that end, designers are always keen to be the purveyors of The Next Big Thing: the next Speedy Bag, Chanel Flap, or some such accessories icon that will not only entice the masses, but perhaps endure for decades.
Design house, Celine, has long been one of the arbiters of all that is cool in fashion. Their minimalistic yet forward-looking architectural designs speak to multiple generations of women who look to cultivate that dressed-down yet elegant look. One area in particular where Celine has really excelled itself is with its handbag designs. Their smooth leather flap-style shoulder bags created a sensation several seasons ago, and are still going strong at the time of this writing.
If the fashion cognoscenti is to be believed, Celine is lining itself up for yet another out-of-the-park handbag home run with the introduction of their clasp bag; a simple, unadorned frame bag that is reminiscent of the handbags of the 1950s. Somehow, instead of looking retro or dated, Celine has managed to add its minimalistic bent to the design of the bag; the thin handle and sharp edges of the bag are reminiscent of a polished skyscraper rising in the sky, and lend a modern and feminine appeal to the bag. Of course, whether or not the public is ready for round two of frame bags remains to be seen, but if Celine's track record is anything to go by, we should all sit up and take notice.