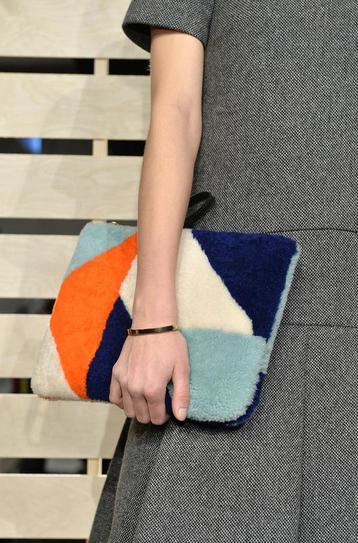 The Fall 2014 collections had some surprises in store for those who follow fashion trends in accessories with as much dedication as they do the clothes. While we may not be ready to put down the sunblock and embrace the fur-lined, sweater-clad ethos of fall just yet, it's never too early to start planning your fall handbag wardrobe. Here are a few of the strongest handbag trends that were spotted during the Fall/Winter 2014 collections.
Large Clutches for Day
Just when we started getting used to the idea of smaller clutches and cross-body bags, the fashion world has pulled a 180-degree turn on us and declared oversized clutch bags back in vogue. Elongated, fold-over clutches in soft, luxe fabrics were seen on the runways at Celine and DKNY, just to name a few. Expect your main street retailers to follow closely in their wake.
Blue is the New Black
Color was all over the place during the shows, but blue in particular seemed to be the hands-down favorite for fall. Deep, inky shades of indigo, pewter, and violet in particular made a strong showing. Blue was especially notable in the many different permutations of fur handbags on offer for fall. The fur trend, around for yet another go this fall, looked fresh and fun in what is looking to be one of the hot accessory shades of the season. Blue fur was spotted on the runway at Diane Von Furstenburg, Etienne Aigner, and J. Crew.