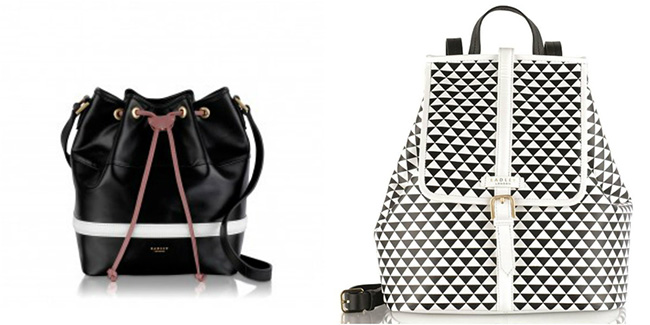 While there is certainly no shortage of designer capsule collections being done for well-known brands, it's simply inevitable that some collections are going to be more memorable than others. This month, popular British leather goods and accessories brand, Radley, has launched one such memorable collection.
The brand has teamed-up with Glasgow-born designer Jonathan Saunders to create a striking, graphic-inspired collection of just 8 pieces that are not only incredibly beautiful to behold, but have an amazing trans-seasonal wearability as well. Using a simple color palette of black, white, and muted rose, Saunders' collection is sporty enough for everyday use, while refined enough to be able to work well against a business wardrobe.
The most notable pieces in the collection are the Medium Drawstring Cross-Body Bag and the Medium backpack. The Cross-Body Bag is done in a simple bucket style in premium leather with pink and white accents, gold hardware, and an adjustable strap that allows the wearer a bit of say-so as to where the bag ultimately sits. The Medium Backpack has been crafted in a crisp, graphic black and white hazard print with contrasting white trim and black straps. It is the perfect size, small enough to not be cumbersome, but large enough to be both serviceable and flattering to the wearer.
The eight piece collection is priced between $100 for the wallets and smaller wristlet pieces and $400 for the backpack and tote, and is available now, while supplies last.