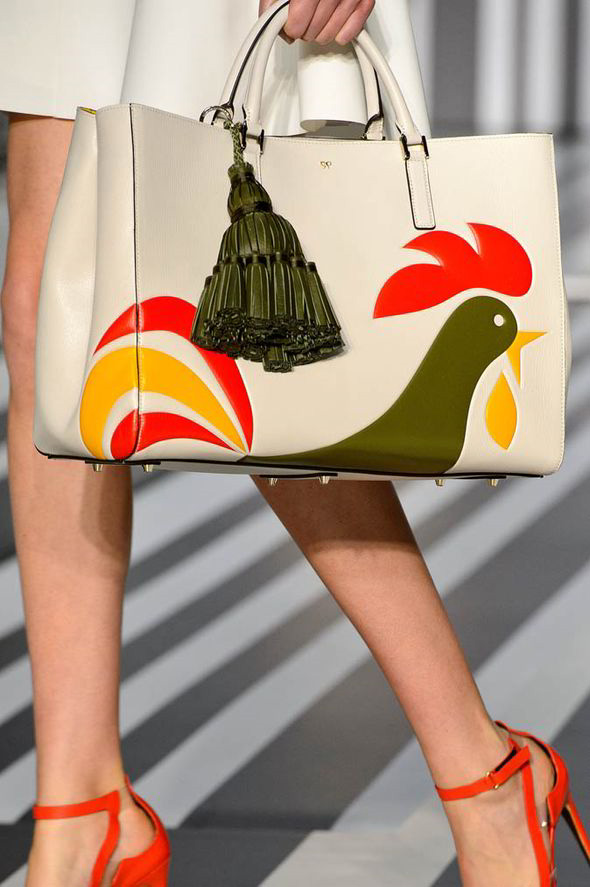 This fall, the trends in handbags and accessories have proved to be a bit of a game-changer. While in seasons past the most memorable accessories have quite predictably been one or two coveted "it" bags from designers such as Céline, Mulberry, or Valentino, this year the accessories market seems to have broadened its definition of what covetable is to include everything from necklaces to gloves, scarves, and beyond. While one might assume that this would be a bad thing for the handbag industry, in reality the opposite is true. This new embracing of the unexpected has led to a season with some of the most diverse and creative offerings yet. Of all of the standout accessory trends for fall 2014, ornamentation stands out amongst its peers, giving what might otherwise be an expected fall look a fresh and modern twist.
Although ornamentation is certainly nothing new to a fall fashion season, we are seeing it crop up in new and unexpected ways. Brightly coloured fur trim, behemoth-sized jewelled embellishments and high octane glitter-encrusted pieces are just a few of the things that have been popping-up on the runways.
As it translates to handbags, there is certainly no shortage of offerings inspired by the ornamentation trend. At Saint Laurent there were glitter-encrusted fuchsia handbags with red clasps, at Dior there were crystal-encrusted floral envelope clutches, and Anya Hindmarch offered graphic, vintage-inspired rooster motif tote bags with oversized tassels. Also carried-over from the summer's graphic art pop trends were offerings from Kate spade, Moschino, and Kenzo, who took their inspiration for embellishment from pop culture and modern art.