Gucci has been bringing us their bamboo top handle bags for multiple seasons now. While you would expect that something that might be considered a specialty bag with a warm weather appeal would have a finite life span, the bamboo top handle bags that Gucci are putting-out have exceeded everyone's expectations and are still going strong. While this might seem a bit counter-intuitive, a closer look at their current offerings reveals that when it comes to the Gucci Bamboo handle bags, there is truly something for everyone. Below are two of our favorites.
For the Minimalist
The Nymphaea Leather Top Handle - $2,390
The sleek, clean lines of the Nymphaea provide the perfect backdrop for the centerpiece of the natural textured bamboo handle. In a dark color-like black or navy, this simple yet elegant bag would easily wear as well in the dead of winter as it would in the summer, lending "investment piece" credibility to the iconic design.
For the Woman Who Likes a Bit of Edge
The Lilith Snakeskin Top Handle - $5,500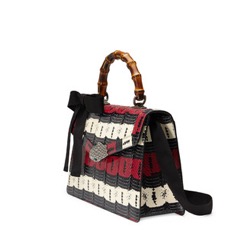 While the Lilith does not have near the wear-everywhere appeal of the Nymphaea, the vibrant pattern, texture, and unique hardware make it a perfect choice for the person who loves to be different (and for whom money is not an obstacle). Add to the edge factor the fact that in mythology, the bag's namesake Lilith was first thought to have been the wife of Adam, and after that, a demon. It doesn't get much more "edgy" than that.