While it's true that the past few seasons have seen handbags of all different sizes and shapes enjoying a degree of popularity, there seems to be a common design trend among the fashion world's most lauded "must-have" bags. The double-handled tote seems to be rapidly taking pole position in handbag designers' race to come up with the handbag of the season, and this can be confirmed by no more than a quick look at some of the most popular styles that have graced the runways (and fashion editors' arms).
We've done our research, and singled-out some of the most popular double-handled tote styles that we think are destined to become classics.
The Prada Saffiano $990 - $2,200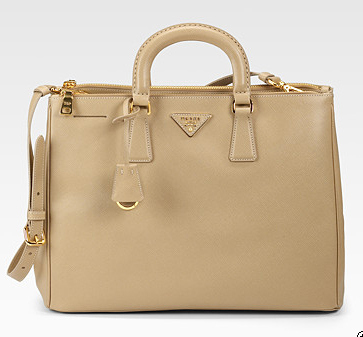 Hands-down one of the most popular fashion-editor bags of the past few seasons, this chic and minimalistic carryall boasts clean lines and an effortless, classic shape that will still be in style 20 years from now. It comes in just about every color imaginable, and Prada offers a few distinct size and fabric options so that you can get the absolute most out of your investment.
The Givenchy Antigona $1,345 — $3,095
This elegant bag has all of the classic, streamlined elements of a classic double-handled tote, but with added architectural elements to give it a strong, modern appeal. Also available in a plethora of colors and leather finishes, this fairly young bag (it only came out in 2010) promises to be around for a good long while.
The Tory Burch Robinson Double-Zip Tote $430 - $500
Again, this classic bag boasts clean, minimalistic design elements that will weather the years beautifully. Burch has imbued her design with a rounded edge towards the base of the bag, lending it a casually feminine vibe. Unlike with the Givenchy and the Prada, color choices are limited to four pastel shades in the mini version, and two neutrals (tan and black) in the full-sized version. However, the mini version also is available in stripe, quilted and perforated finishes if you are a customer looking for something a bit off the beaten path.