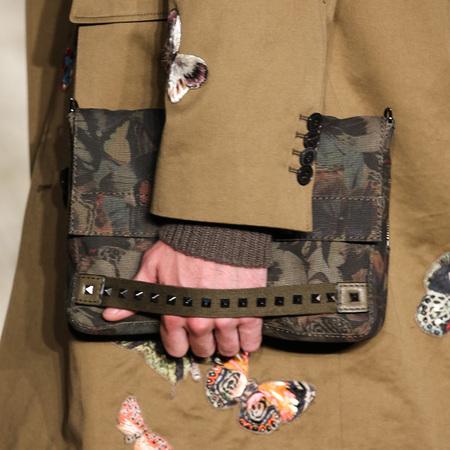 The man bag, the butt of many a joke, as well as one very memorable episode of the iconic 90s sitcom Seinfeld, appears to be making somewhat of a comeback for the spring/summer 2015 season. During Men's Fashion Week in London and Milan, there were man bags aplenty. In and of itself this is not so unusual during the men's shows, but this time, things were just a little bit different. This time, the man bags walking down the runway were clutch bags.
Many, if not most of the clutches for men seen during the shows were designed to look like oversized envelope and messenger clutches, only with a bit of a twist. At Fendi, models sauntered down the runway with black leather zip clutches in hand. These bags were about the size of a classic iPad and were crafted in thick pebbled leather while also sporting a braid in a colourful weave. An accessory with seemingly endless applications, the simple design of the Fendi clutch has the appearance of a marriage between a shaving kit and a laptop or tablet case.
The real commitment to the man clutch was at the Valentino show in Paris, where models carried clutches that resembles mini messenger bags, with a low profile strap across the front through which to thread one's hand. Available in both camo print and an array of bright colors, the Valentino clutches managed to walk a fine line between masculine effortlessness and a sartorial heavy-handedness without missing a beat. The detailing on the Valentino clutch, arrow of pyramid-shaped studs, is the perfect hard-edged finish to a well-designed bag, and also pays homage to the design house's extremely well-received Rockstud collection.