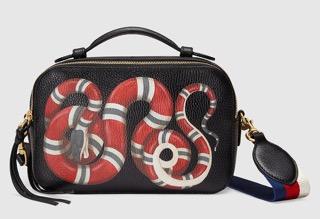 Each and every season, you certainly could not complain of a shortage of trends in the handbag world. However, this spring the fashion world appears to be ushering-in one of the most practical handbag trends we've seen in a long time; the vanity case bag.
While soft-box type bags are certainly nothing new to the handbag scene (as any collector worth their salt will tell you, Chanel and Louis Vuitton have been doing these for years), there is a pragmatism to this roomy, accessibly simple design that comes like a breath of fresh air after seasons of furry "monster" bags, fiddly backpacks, and the never-ending depths of the revival of the bucket bag.
As always, even with a trend as clean and simple as this spring's vanity case trend, there are a few standouts to suit every taste. Here are two of our favorite picks.
The Chanel Vanity Case Bag - $3,500
As you might expect from Chanel, their version of the vanity case is perhaps the most polished (and the least budget-friendly) option available for spring. It's hallmark leather and chain strap and quilted exterior are both a nod to traditional Chanel design elements, and bring to mind a softer, slightly less aggressive version of their popular Boy Bag.
The Gucci Snake Print Top Handle Bag - $1,750
Gucci has taken the austere elegance of a very minimalistic bag and added a bit of tough-girl edge to it by adding a graphic coral snake, lending it a bit of tattoo parlor-esque street cred. While this is probably not a bag that you might consider an investment piece, if you can swing the nearly $1,800 price tag, it's a great option for those who like a bit of edge to their looks.