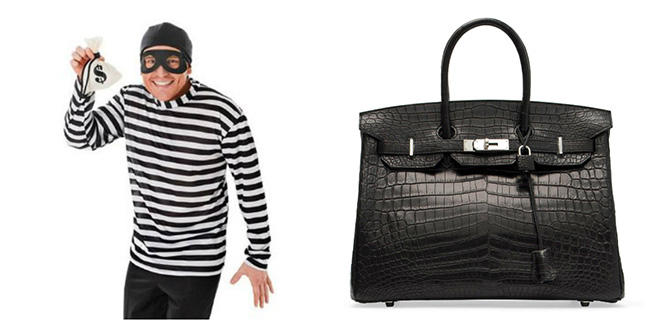 When you try and envision what a high-stakes heist might look like, your mind probably immediately turns to that old Hollywood theme of cat-burglars and jewel thieves dressed in skin-tight black leotards, listening to safes with stethoscopes or drilling a hole in a jewelry store window. But this week, merchants in Hong Kong experienced a whole new variation on the theme of the classic high-stakes heist. This time, thieves targeted not jewels, money, or even encrypted data, but high-end handbags.
According to the South China Morning Post, last week, the Brand-Off luxury goods outlet on Peking road was visited by a man who asked to see a Hermes Birkin Crocodile skin handbag, worth approximately $398,000 Hong Kong Dollars. When the clerk handed-over the bag for his customer to take a closer look, the customer made a run for it, with store employees and police giving chase.
Unfortunately for the merchant, the man escaped in a taxi, and Hong Kong police have been unable to track him down.
This is not the first type of incident of its kind in Hong Kong. Earlier this summer, a nearby outlet center was targeted when a nearby luxury goods outlet was visited by 4 men brandishing hammers. They used the hammers to smash the glass of the display cases, escaping with 30 handbags. It is estimated that the damages from this high-end heist total approximately 1.8 million Hong Kong Dollars.