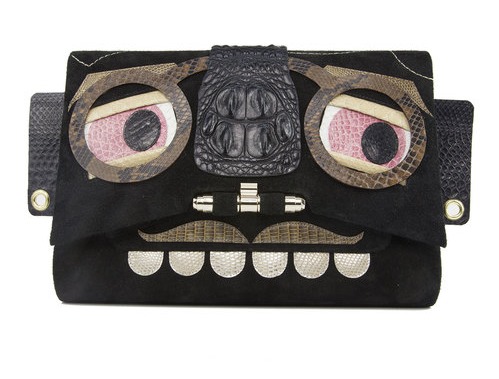 As is often the case when the spring season approaches, there's new collection of luxury handbags launching on the scene. This in and of itself is certainly nothing to write home about, but then, you haven't seen the bags yet.
The woman behind the new handbag collection is Kara Ross, and she is bringing us one of the freshest handbag offerings of the season with her My Purseonality collection. My Purseonality is a streamlined collection of fold-over clutches (with a delicate chain shoulder strap) that feature a customized emoji based on your particular personality.
The collection originally launched with a few off-the-rack emoji designs like The Mogul and The Panda, and proved to be so popular that Ross launched a customization tool so that customers could have a more personalized experience.
Kara Ross originally started her career as a jeweler, and has created several commissioned pieces for President Obama and The First Lady, which have been used as gifts for visiting dignitaries and heads of state. Ross is inspired by non-traditional materials in her work (like jet and wood), and prefers to use materials that are organic and as close to their natural state as possible.
To help customers create a handbag with their personal emoji, her website offers the My Purseonality Quiz; a series of questions that will generate the perfect, personality-inspired emoji based on your answer. While it may not be scientific, it certainly is fun. In addition to picking your leather color and texture, you can also choose the color of the hardware on your bag, enabling you to create the perfect backdrop for your new custom-generated emoji!