Faux Leather, Leatherette, Pleather, or even Vegan Leather; they are all the exact same thing, a PU (Polyurethane) that is meant to mimic leather. There is one type of material, that is changing the world of leather. Still basically a PU, PATINA (Not to be confused with the oxidation kind) is an innovative material and technology that looks, feel, and act just like leather. It was developed to solve all problems of PU, which tends to flake and peel. Although this type of technology has been around for decades, it has been mainly used for high-end sofas and luxury car seats. Made from high grade polyurethane resin and ultra-fine microfiber, where it is able to mimic the structure of genuine leather, which are then dyed with solution (versus with water where it can pose a risk for contamination), so it is very eco-friendly as well. Its fiber strands is even finer than silk! Benefits of PATINA includes a soft luxurious texture, light weight, high durability, low maintenance, along with it being available in many colors.
One example of a handbag company that uses this innovative technology is JW Pei. Launched in 2016, this handbag company with the aim for an ethical and sustainable fashion future, their handbags are made with recycled material, using a unique ultra-microfiber technology for their products to become just like genuine leather. Their manufacturer is located in Guangzhou, China, with 500 workers that serves luxury brands such as Prada. They only work with factories that are certified by GRS (Global Recycling Standards) and the Oeko-Tex Standard. 10% of every purchase gets donated to animal sanctuaries to provide better living conditions for animals, along with aiding tanning workers their health needs. Their price averages around $189, below are examples of their line.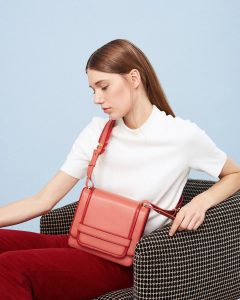 Handbag companies have different aspects that sets them apart from other, with the current trend being sustainable and embedding innovative technology. Personally, I think JW Pei's success and uniqueness lies within their innovative use of technology, their seriousness in sustainability, along with part of the profit going towards animal and tanning workers' welfare. Their designs are minimal, sleek, and geometric, which is something very trendy these days. In addition, the curation of their product photography is very clean, consistent, and styling with the lifestyle they want to portray.
*Photo Sources: JW Pei