When you hear the iconic Chanel brand mentioned, your thoughts tend to turn to time-enduring classic pieces like quilted leather chain-strap shoulder bags, cropped wool bouclé jackets, and multiple strands of pearls. However, Chanel also harbors a wilder, more irreverant side to its brand that might leave you more than a little bit surprised.
Whimsical "theme bags burst onto the scene about a decade ago, and while they have dwindled in number, have not altogether gone away. Every handbag fan worth their salt knows about Judith Leiber's covetable miniaudiere confections, or can recognize a Fendi Monster Bag from afar, but who knew that all along, Chanel has been quietly (or not so quietly in some cases) keeping stride. Here's a look at some of their wackier contributions over the past decade.
The Shanghai Takeaway Box - Circa 2010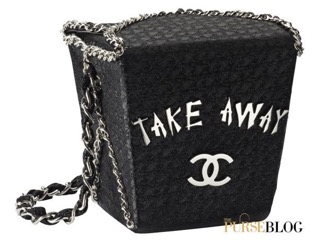 While this may not be what comes to mind when you consider plonking-down a small fortune for a Chanel investment bag, you can't deny the kitchy appeal of carrying around all your personal belongings in a luxury, oversized Chinese food take-out box.
The Chanel Money Clutch — Circa 2014
In our opinion, if you're going to buy in to the wild and wacky handbag trend, a clutch is the perfect way forward; it's small, and you have to carry it in your hand, essentially relegating it to the same level as an interesting piece of jewelry. However, we are willing to bet that this Money Clutch costs a fair bit more than the $5 denomination that is embroidered on it.
The Chanel Trolley Miniaudiere — Circa 2016
A tiny handheld clutch made to look like the carry-on that you're always worried about stuffing into the overhead compartment. You have to admit, that's kind of a genius move — all with the added bonus of not having to endure dirty looks from your fellow passengers when you tuck this little beauty neatly under the seat in front of you.