It's that time of year; there's a layer of tinsel over everything at the office, everything has moved-on from being pumpkin-spiced to cinnamon and eggnog, and kitschy sweaters are festooned with tacky holiday imagery. There's no escaping it.
However, for some of us, emblazoning yourself in bright, flashy holiday icons may not be your thing. But that's not to say that you can't partake in a little sartorial celebrating without looking like an over-decorated Christmas tree. Here, we show you two delightfully festive metallic handbags that are on the market right now, and will continue to look good the rest of the year.
The Paco Rabanne Circle Shoulder Bag - $1,390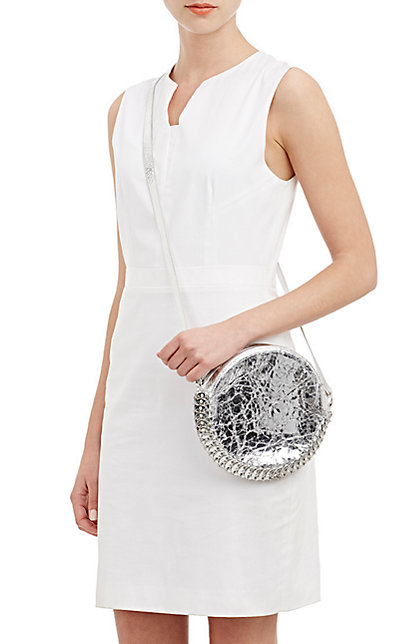 Circular bags had a bit of a moment last spring and fall, and we think that the shape still looks fresh and feminine for the festive season. This convenient small cross-body bag comes in metallic gold, silver, and black, and is a great and unexpected alternative to your old standby quilted chain strap shoulder bag.
Balenciaga Arena Giant 12 Mini Pompon Bucket Bag in silver $1,465
This dressed-down design takes on a whole different appeal when done in metallic leather, and the result is perfect for those of us who prefer to take a high-low mix approach to their holiday wardrobes. The bag is big enough to accommodate all of your things without having to leave your favorite bits behind. This bag is a shining (literally) example of form meets function. The bag's shoulder strap is also detachable, giving you options as to how you style it.