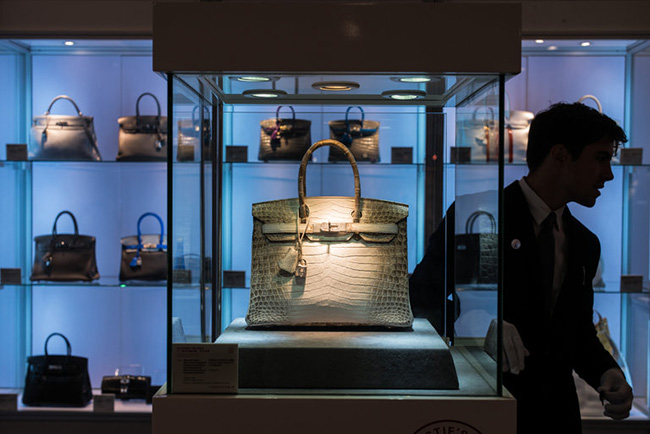 It wasn't that long ago that Christie's in Hong Kong hosted their first-even auction featuring a series of high-end designer handbags. The auction was hugely successful, solidifying a place for handbags among other high-value auction items such as antiquities and art. Christie's now holds twice-yearly handbag and accessory auctions in Hong Kong.
Christie's Hong Kong has been at it again, this time with their 30th anniversary auction. The auction was made up of 30 lots in total, including such items as art, jewelry, and wine.
However, in another ground-breaking turn, the star of the auction was in fact, a handbag. A 12-inch matte Hermes crocodile handbag with gold hardware and four carats worth of f-color diamonds was set before the audience, billed as "the most valuable handbag in the world."
With a presale estimate of between $190,000 and $260,000, the bag actually sold-out in about four minutes, at $300,168. In fact, the handbag netted more money than a hanging scroll that was once owned by the Embress Dowager Cixi of the Qing Dynasty.
So why is this white Himalayan crocodile Birkin so special that someone would be willing to pay $300,000 for it? For one thing, the bag was virtually unused, and Unused Birkins at auctions are normally marked-up between 10 and 20 percent above retail. Also, according to The New York Times, "white is the hardest color to achieve with crocodile skin, as you have to remove all of its natural pigment, and to find a bag in its unused condition is even more rare."