Goyard is a prestige luggage, handbag, and pet accessories brand. Uncommon and expensive, it is only known by the super elite and serious handbag lovers. The question is how does it remain hidden and still be in business? Also, where can I purchase one!?
What & Who is Goyard?
Unlike other luxury name brands such as Gucci or Louie Vuitton who have to appease investors, Goyard is privately own and has been around for 200 years. Allowing them to market, produce, and sell to whoever they please. According to business insider, "it has built its business on discretion, creating an elusiveness that makes it the ultimate status symbol for rich people" the retail cost can range from $300 to $59,000.
Their clients range from Gwyneth Paltrow and the Duchess of Sussex, Meghan Markle to A$AP Rocky and Kanye West. Even the Duke and Duchess of Windsor were collectors of the brand since the 1930s, then having to auction off their collection in 1997 where a monogrammed Goyard trunk went for $14,950 and another for $32,500 according to Town and Country.
[caption id="attachment_7735" align="aligncenter" width="374"]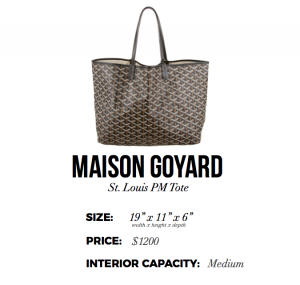 Alyson Haley~Louis Vuitton vs Goyard Handbag Review[/caption]
The lure of Goyard is best explained by a representative from the House of Goyard who told HYPEBEAST back in 2017, "Luxury is a dream, and reveling too much of what goes on behind the scenes would spoil the magic... We believe that whispering softly in someone's ears is not only more elegant, but also much more efficient than screaming at the top of one's lungs." Basically, they want to attract the best of the best to wear their chevron-printed ware and not have to cater to the masses.
Where can I purchase NOW!?
Where can you buy yourself a Goyard handbag, luggage piece, or even a doggie collar? Certainly NOT online! They are against the E-commerce sales of their product BUT they do not condemn you if you are trying to resell your Goyard product online. They have boutiques across the globe in major cities that sells their products in stores. For more information go on their website www.Goyard.com.
The best part, you can also personalize your Goyard product/ request to create a one of a kind Goyard piece if you have the money.
Not within the Budget?
If Goyard is out of your price range, consider some of RIONI wares such as the....
[caption id="attachment_7738" align="alignleft" width="270"]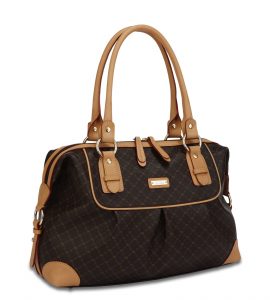 Patti
[/caption] [caption id="attachment_7739" align="alignnone" width="270"]
Jayna
[/caption] [caption id="attachment_7740" align="alignleft" width="270"]
Luxe 45
[/caption]