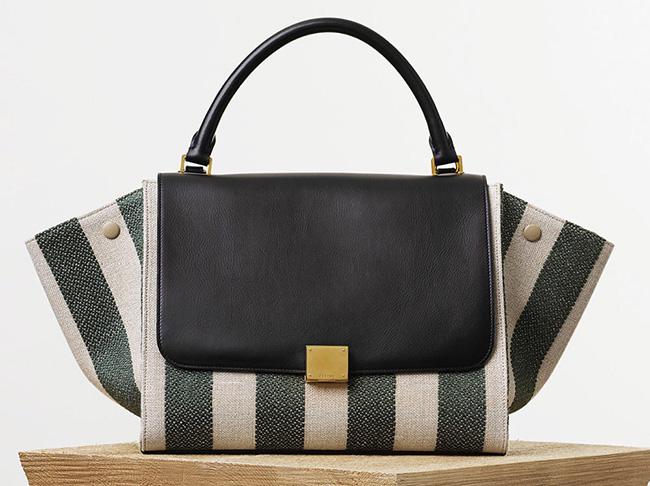 There are few things in the design world that scream summertime like the appeal of a crisp nautical stripe. Whether it's a classic Breton t-shirt, the canvas on the awning of a summer retreat, or something as simple as a beach towel, the clean lines of a nautical stripe are always in style.
This season, handbag lovers can take advantage of this classic pattern with a slew of new handbags that have arrived on the scene for Spring/Summer 2015. We've sifted through the offerings and come up with our top three picks.
The Céline Trapeze Bag
The ever-popular Trapeze bag by Céline is absolutely resplendent in its newest permutation; a wide nautical stripe. Reminiscent of a beach cabana, this bag will instantly lighten the tone of anything you decide to pair it with. The trapeze bag starts at $2,700.
The Tory Burch Printed Leather Bucket Bag
This fun leather bag has all of the slouchy appeal of its 1970s predecessor, with a slightly smaller size and a crisp, navy blue and white stripe pattern. The casual elegance of this bag makes it the perfect choice for summer! The printed Leather Bucket Bag is $550.
The Marc Jacobs Metropolitote Saffiano Tote Bag
Take a classic nautical stripe tote bag and ramp-up the color, add a coordinating floral print panel on the opposite side, and you have Marc Jacobs' Metropolitote. Cheerful and summery, this tote is not only one of the most pragmatic bags you can own, it will boost your spirits just looking at it! The Metropolitote is $298.