By now anyone who is a handbag collector already knows about the standard must-haves: the Chanel 2.55, the Louis Vuitton Speedy, and the Birkin...by now these bags have become a bit of a foregone conclusion for the serious collector. However, there is a new crop of investment bags emerging, sending serious handbag collectors scrambling to add more shelves to their already overflowing handbag wardrobes. Here are two of the frontrunners for the next generation.
The Chanel Boy Bag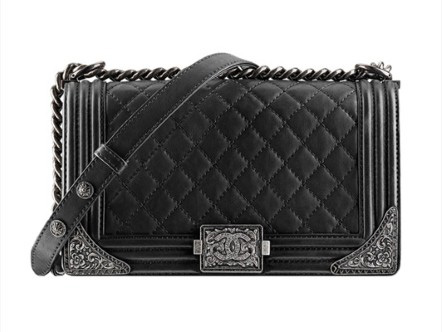 This bag was launched in 2011 to an eagerly awaiting fashion audience and was met with instant success. The Boy Bag is Chanel's answer to their more austere, refined 2.55; it has all the traditional styling of your classic Chanel, but with a bit edgier, streetwise vibe. The burnished hardware, the mix of fabric and leather, the thicker shoulder strap; all of these things elements seem to have created the perfect storm of handbags. The Chanel Boy Bag is available in three sizes and starts at $4,300.
The Balenciaga City Bag
The Balenciaga City Bag has been around for a lot longer than the Chanel Boy Bag; it was originally introduced in 2003. This is a bag that has been spotted on the arms of celebrities and the fashion cognoscenti for nearly a decade now. We believe that the City Bag's ability to stay relevant long after the boho chic trend that inspired it speaks volumes, and therefore deserves a place among the new generation investment bags. The Balenciaga City Bag's relaxed appeal is available in a myriad of colors and sizes and starts at $1,465.